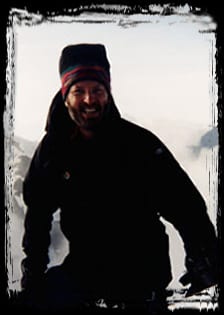 Chimbulak, Tien Shan Mountains in Kazakhstan- 1989
Snake River cutthroat- 1978
Ama Dablam, Himalayas- 2015
Grandpappy Irv Corse on Bar BC- mid 1930's
String Lake with Sarah and Tank- 2002
Vulcan Concepcion, Nicaragua- 2014
Summit Vulcan Concepcion, Nicaragua with Fuller-2014
Big water on Zambezi River- 2010
Wind River Mountains- 2012
Bar BC cutthroat- 2014
"Live a Fuller life"
Charlie Ross stayed on his family's historic cattle and dude ranch, the Bar BC Ranch in Jackson Hole most summers of his life. His Grandfather was a Lieutenant in US ARMY Air Corp and later with the Royal Air force, as a fighter pilot in Europe in World War I. He brought one of the first airplanes to Jackson Hole in 1930s. Charlie spent years as a child on horseback and fly fishing the Snake River and streams of the area. In 1976 Charlie moved to Jackson and was the fishing guide at the Triangle X Ranch then worked for Jack Dennis Outdoor Shop and Mad River Boat Trips as a fishing, whitewater and river operations manager until he launched his adventure travel career in Chile on the Bio Bio River.
Charlie lived in Zambia for 8 years building the Zambezi whitewater operation, canoe trips and safaris in the early 1980s to early 1990s. As Vice President of Sobek Expeditions he set up operations and ran trips in the Soviet Union from 1987-1990. Some notable trips that he has done include the first raft descent of the Kafue River in Zambia, the first high water rafting trips on the Zambezi River, first commercial canoe trips in Zambia of Kariba Gorge, ascents of Mt Kilimanjaro, Mt Meru, the Ruwenzori Mountains in Uganda and Mt Kenya, Pico de Orizaba, Mexico's tallest mountain, Mt Chirripo, Costa Rica's tallest, Vulcan Concepcion and Maderas in Nicaragua,  first western descent of the Bashkaus River in Siberia, first commercial helicopter ski trip in Kazakhstan, first commercial fly fishing trip to the Anadyr Peninsula in Russia, and first commercial descent of the Class V Grays River near Jackson, Wyoming.
Jackson Hole has been his home since 1976. In 1995 he began his real estate business in Jackson with Jackson Hole Realty, the largest brokerage in the area through the 1990s. He became a partner in Jackson Hole Realty in 2000 and in 2003 sold with his partners to Sotheby's International Realty where he continues to work.
Charlie's long history in Jackson Hole offers his customers a unique vantage point into the Jackson Hole valley and combined with his adventure travel background, he is ideally suit him to share his expertise in the Jackson Hole real estate market.
Charlie hails from Sewickley, Pennsylvania and is a graduate of the University of Wyoming and attended Thunderbird University in Arizona where he majored in international studies and economics. He has 3 children, the eldest born in Zimbabwe and the other two born in Jackson.